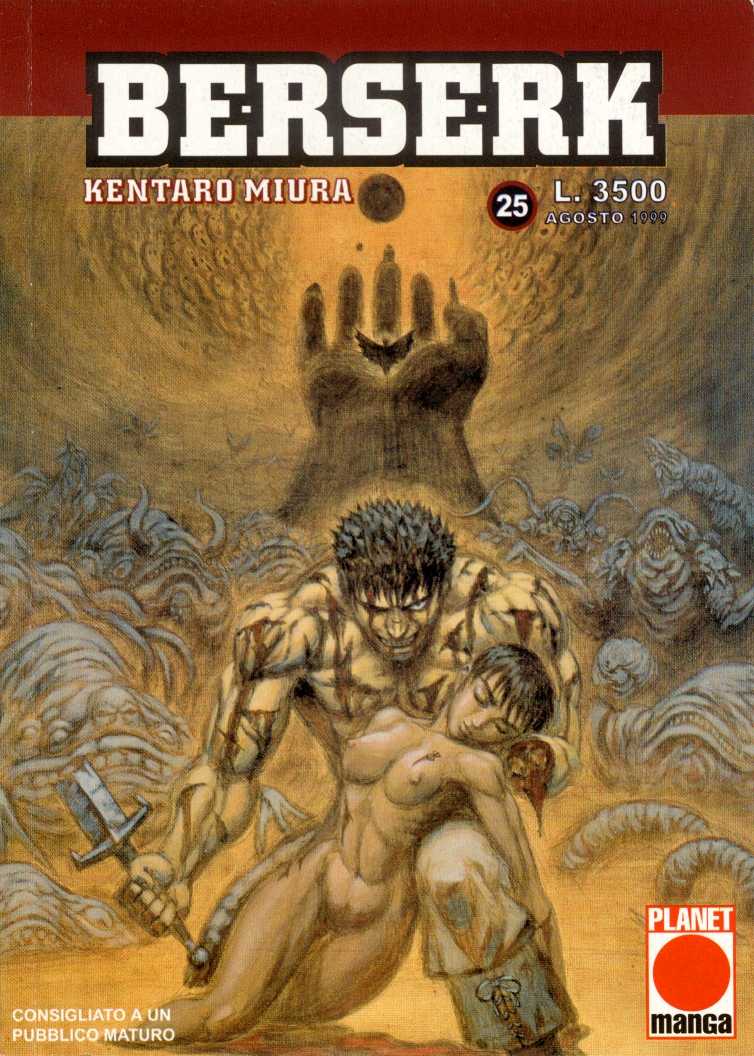 Berserk
(
ベルセルク, Beruseruku
) is a long-running dark fantasy manga series written and illustrated by Kentaro Miura. He premiered a prototype of
Berserk
in 1988 and the first volume of the manga was published on November 26, 1990 by Hakusensha in its Jets Comics collection.
The setting is inspired by medieval Europe. It centers around the life of Guts, an orphaned mercenary warrior, and Griffith, the leader of a mercenary band called the
Band of the Hawk
(
鷹の団, Taka no Dan
). As he ages, Guts changes from a solitary boy into a man who realizes the value of camaraderie. The story contains elements of both fantasy and horror, as it explores both the best and worst of human nature. Both the manga and anime are noted for their heavy violence. It was adapted as an anime, Kenpū Denki Berserk (
ベルセルク剣風伝奇, Beru
seruku Kenpū Denki
), which was produced by Oriental Light and Magic and aired on Nippon Television f
rom October 07, 1997 until March 31, 1998. It ran for 25 episodes and covered the first arc: Golden Age.
This seminal dark fantasy manga,
Berserk
, is set to resume regular serialization in Young Animal after a long break. Fans are delighted about this comeback and hopefully continues with what happened with Guts and Casca. Young Animal 21, will go on sale on the 24th, at the same time as the 33rd volume of the manga. Young Animal will also carry a commemorative cover by Hachimitsu to Clover mangaka 羽海野チカ / Chika Umino to mark the occasion.
Alternative title
:
Kenpuu Denki Berserk (Japanese)
Берсерк (Russian)
ベルセルク (Japanese)
剣風伝奇ベルセルク (Japanese)
베르세르크 (Korean)
Genres

:
action, drama, fantasy, horror, supernatural
Themes

:
bloodshed, demons, rape, sword-fights
Age rating

:
Mature (may contain nudity, brutality, and gore)
Running time

:
24 minutes per episode
Number of episodes

:
twenty five (25)
REFERENCES AND REVIEWS: